From:
Scott P. Scheper
Orange County, California
Wednesday, 2:20 p.m.
Dear Friend,
One-hundred and three years ago, on a warm windy afternoon in April, F. Scott Fitzgerald was being interviewed for a magazine article.
The author (who would later go on to write The Great Gatsby) was responding to a question about his "writing secrets."
The interviewer asked Fitzgerald about his "writing secrets" because he was so young, yet somehow so gifted.
Fitzgerald had just published his first book, This Side of Paradise, which garnered immediate and tremendous amounts of commercial success.
In fact——at the time of the interview, Fitzgerald was the most famous author in America (he was twenty-three years old).
After being asked what his writing secrets were, Fitzgerald responded, "I want to be able to do anything with words."
He wanted to "handle slashing, flaming descriptions like Wells."
He wanted to "use the paradox with the clarity of Samuel Butler."
He wanted to write with "the breadth of Bernard Shaw," and "the wit of Oscar Wilde."
How did Fitzgerald go about doing this?
That's a good question. And in fact, it's rather simple.
You see, Fitzgerald didn't just read the writings of great authors; rather, he studied them by copying out their words by hand.
"As a matter of fact," Fitzgerald continued, "I am a professed literary thief, hot after the best methods of every writer in my generation."
Let's take a step back for a second and think about what Fitzgerald did.
How did Fitzgerald study the great writers?
He would essentially "break apart" not only the prose of each author, but also the structure of their writing.
The best way to "break apart" a piece of writing in order to study its "structure" (I contend) is by "chunking" each piece of writing into separate notecards. For instance, 3x5" notecards.
It's how Gary Halbert constructed his sales letters, and it's how countless screenwriters craft their scripts.
In Issue No. 9 of The Scott Scheper Letter, I show you how to do this.
Actually——
I not only show you how to do this, I teach it in explicit detail. I take you card-by-card through the best storytelling framework you'll ever have——The Impeccable Origin Story.
Once you have this framework, every product, book, course, or service you ever create will practically market itself——on autopilot.
At the time of this writing, there is one day and eight hours left before the deadline hits to pick up Issue No. 9.
If you want this issue (and a free thirty-day trial to the best physical monthly newsletter about knowledge, writing, and marketing), then simply go here:
https://www.scottscheper.com/free-trial
All I ask is that you cover the cost of printing, shipping, and materials ($11.86).
Thank you for your time,
And thank you for your consideration.
Warm regards,
And always remember,
To stay crispy, my friend.
Scott P. Scheper
"A Man Who Pulls an F. Scott Fitzgerald Story Out of His Ass to Promote His Physical Monthly Newsletter"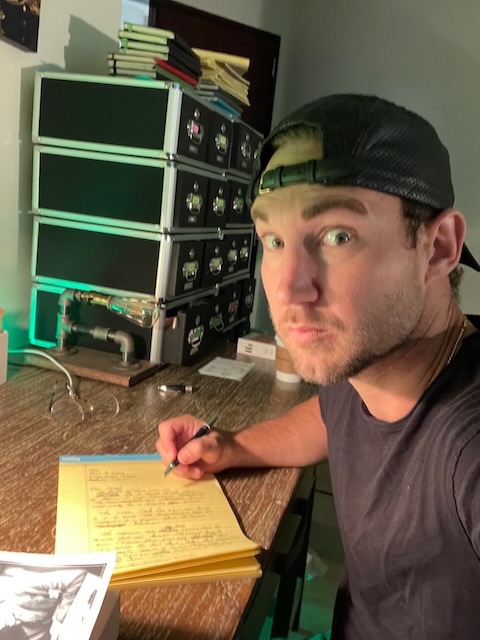 P.S.